Multiple Services,
One Point of Contact
Think of us like an executive assistant, amplified.
Stay up to date on our latest news & events
How We Align The Stars
We help business owners connect with companies in these types of fields, and far beyond. Not only do we make the connections, but we also handle the management, the facilitation, the invoicing, and everything in between so that you can relax and focus on what it is you do best.
Video Production
Looking to put your best foot forward? We connect you with professional videographers that are the right fit for your business.
Editing
Effective messaging and communication is vital, so we help make sure your writing is an accurate and effective representation of your organization.
Technology Assistance
Small businesses have tech needs, too. We help connect you with professionals to help you feel confident and secure with your technology.
Graphic Design
If you need materials and brand assets that highlight your organizations or event, you need a graphic designer. Good design rarely stands out, but bad design will always be noticed. 
Wealth Management
Certified Financial Planners that hold a fiduciary standard with your interests, first.
Cleaning Services
Highly skilled commercial and residential cleaning services.
Social Media
Deliver content and conversation that is always authentically on-brand.
Tax Preparation
Let the experts handle your taxes so you can focus on the day-to-day.
Photography
We help refer you to photographers that fit your style and needs for images including headshots, stock photos, and social media content. 
How this works
The 989Concierge Process
If you're a business owner in the Great Lakes Bay Region, you are likely spinning a lot of plates. We take some of those plates off your hands by connecting you to service providers in and around Bay City, Saginaw, Midland, and beyond to help you delegate your tasks so that you can focus on what it is that you do best. 
It's kind of like an executive assistant, but SO much more.
We sit down with you to identify not only where you need help, but also key in some areas you might not have thought about yet. From there, we handle the details. We contact the vetted service providers in the fields we've identified, help to define the scope of the project, get the ball rolling, and then act as your dedicated project manager where we keep everything on track and manage any potential conflicts. The end result? Happy business owners and happy service providers. Oh, and a lot less broken plates.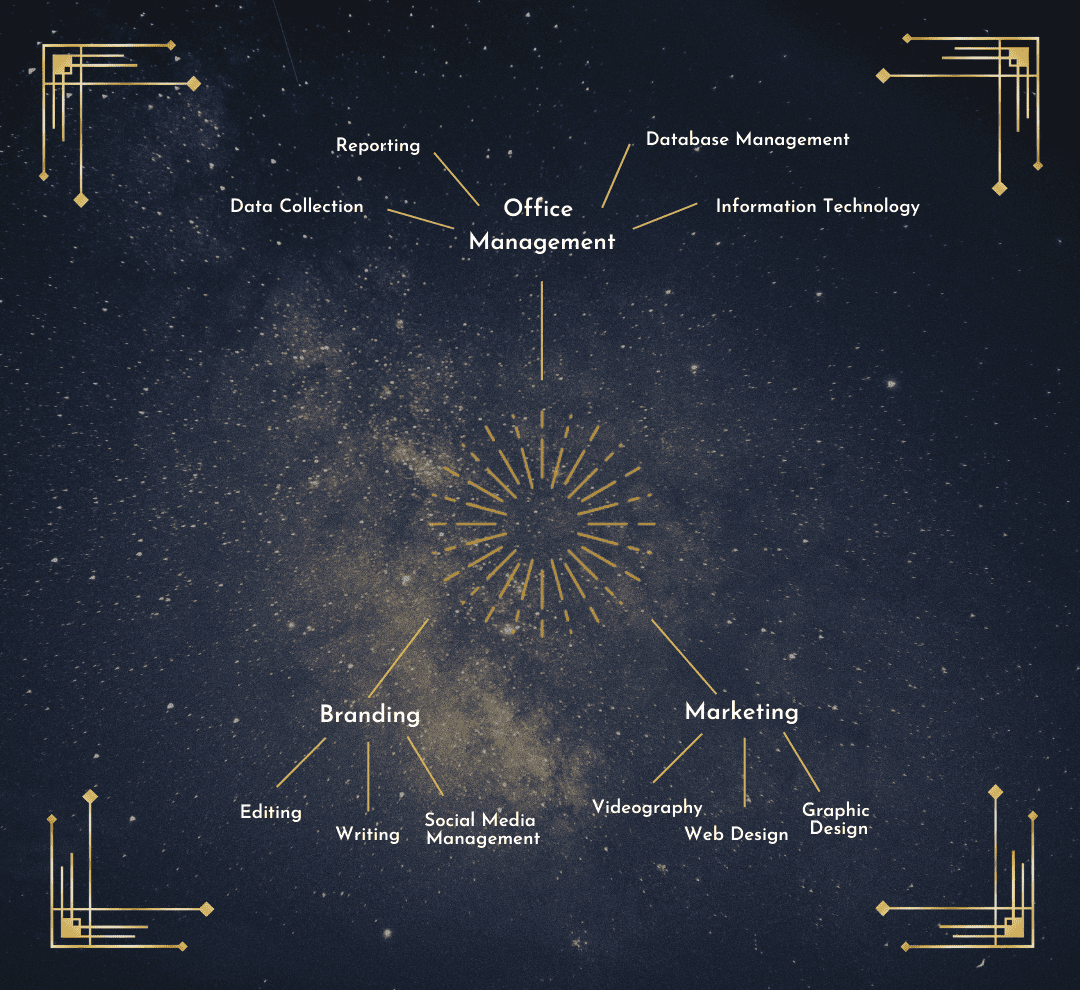 Frequently Asked Questions
What do you do?
989Concierge is here to act as a support for your business. We are your vehicle to delegate by connecting you with professional services or helping you manage day to day tasks. Your business will have one point of contact which ensures timely completion and accuracy.
I started my business from the ground up, I am nervous about asking for help.
That makes sense, and keep in mind that 989Concierge is also a small business and we understand how stressful it can be to hand things over. Just keep in mind that you deserve time to relax and we offer piece of mind.
I want more people to know about my business, how do I do that?
It sounds like you could use assistance in public relations. We can pull together professionals in areas such as social media, graphic design and videography to be sure your business has the best chance to be visible.
My office is not organized. I lose track of things.
The majority of small businesses have less than 4 employees. This means most business owners are juggling several tasks; office manager, sales representative, HR director. It's difficult to stay on top of everything. We can help you create a system that will work to maximize your productivity. This is about quality of life. You deserve to have a fulfilling life outside of work.
What is your ideal client?
A small business owner that is ready to delegate and improve a business's message and operations, whether that is a temporary fix or a long term solution through outsourcing.
How much do you charge?
We quote based on the job type and stay away from hourly because we focus on quality.  We also set up monthly retainers for ongoing jobs.
What types of jobs do you work with the most?
We support during times of staff transition and help business owners delegates tasks they often put off.
I'm concerned on privacy, can you keep things confidential?
Absolutely and that is standard practice.  Only when divulging that information is required to do the job, will we disclose clients.
What benefits do I get from your services?
Think of 989Concierge as a general contractor.  If you are building a house, it's more efficient to have a point person that coordinated the smaller parts, right?  We act as that general contractor when you need to outsource specialized services or those daily tasks you'd like to delegate.   
Contact Us
Not ready to work with us yet but have a general question? Drop us a note! We'll get right back to you.